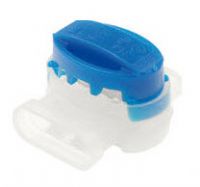 Cable Connector 314
Cable Connector (model 314). Completely sealed unit for safe cable connection. For auto mower boundary cable, guide cable and loop cable installations.

Specifications
• Capacity up to 3 cables Ø3.8 mm
• Easy to install, no tools required
• U-contacts provide safe and dependable electrical connection
• Self-sealing gel for moisture and corrosion protection
• Safe to bury
BUY PRODUCT:
---
GOT QUESTIONS? CONTACT SALES TODAY
BOSSMOW takes great pride in helping our customers to the best of our effort. Therefore do not hesitate to contact us regarding any product questions or other inquries.